A Smoking Gun in the Smith History?

As far back as his years in graduate school, during 1979-81, Spalding researcher Dale R. Broadhurst suspected that the Times and Seasons account of Smith's 1827 uncovering of the "golden plates" of the Book of Mormon somehow depended upon a Spalding original. Other students of Mormon history had previously identified many parallels between the Smith account and the story told at the very beginning of the Oberlin Spalding Manuscript: B. H. Roberts, Marvin S. Hill, and Lester E. Bush (all faithful LDS) had previously noticed and reported some of these interesting textual similarities.

In about 1996 Spalding researcher Doyle Franklin of Murfeesboro, Tennessee, completed an unpublished study of textual similarities between the Oberlin Spalding manuscript discovery account and the Joseph Smith golden plates discovery account. Franklin's compilation of textual parallels in the two respective stories runs to 360 entries, but the determination of a "strong" correlation of his selected extracts appears to be subjective and often unreliable. There are perhaps 100 good "hits" in his lengthy tabulation.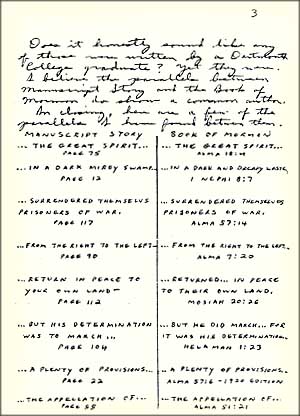 Sample page from the 1996 Doyle Franklin Manuscript


For example, there is one very unusual phraseology parallel Franklin missed when compiling his 360 sets of parallel quotations. The Times and Seasons "History of Joseph Smith" segment of May 1, 1842 contains this verbal oddity on page 772:



...rumor with her thousand tongues was all the time
employed in circulating tales about my father's family...

In reading this passage one can easily detect how incongruent the phraseology is with early samples of Smith and Rigdon's written communications. It is difficult for even the imaginative reader to picture either of those two Mormon leaders composing such a poetic personification of "Rumor" and "her thousand tongues" for a prosaic LDS historical narrative. In fact, the wording is much more reminiscent of what might be expected from the pen of Solomon Spalding -- and, sure enough, on page 118 of his Oberlin Manuscript, this phraseology occurs:



Fame with her thousand tongues commenced her pleasing
employment... with many distorted and exaggerated particulars...


Although these two excerpts share some common wording, they are not identical. There is no proof here that Rigdon (or some other LDS writer) copied a passage directly out of a Spalding text. A major difference between the two passages is that Smith's History personifies "Rumor," while Spalding's story personifies "Fame." Spalding probably picked up their particular phraseology from the text of a 17th century play entitled "The Triumphs of Love and Innocence" (published as "Queen of Cypress, or Love Above Ambition"). Act One of that same play speaks of "Fame with her thousand tongues..."

But Solomon Spalding did not derive his entire quote from a 17th century stage drama. As is so often the case with his unattributed literary quotes, he has conflated two similar sayings into a single utterance of his own. A young John Milton once wrote a short flowery essay entitled "On The Fifth of November" -- a piece generally included in printings of his collected works. In that essay Milton speaks of "Rumor... babbling with her thousand tongues... diminishing the truth... exaggerating..." Both the Spalding quote and the Smith History make key use of the idea of "exaggeration," a word that does not appear in the excerpt from the old play. It is likely that the well-read Spalding knew of both the "Fame" and "Rumor" personifications in print, and that he chose to merge their ideas in his own writing about lying exaggerations.

How these same obscure concepts and hyperbolic verbage came to rest within the Smith History is anybody's guess -- but some substantial connection with the writings of Solomon Spalding cannot be ruled out here. In his essay Ted Chandler said: "It isn't merely the styles of these two accounts (Spalding's Oberlin MS and the Smith History) which are similar, but also the content and specific details." That observation may be generally true for the portion of text Chandler examined. It also seems to be true for another part of Smith's History -- the episode in which his recovery of the famous golden bible is recited. But the tales of persecution surrounding the "her thousand tongues" inclusion do not match up well with anything written in the Oberlin manuascript or other known Spalding documents. If a Spalding original was relied upon by Sidney Rigdon or some other Mormon copyist, quotations from that earlier story must have been made selectively, more with the intent to give flavor to the Smith story, than to provide it with a great deal of substance.

One place in the Times and Seasons serialization where such "substance" can be easily located, is in the episode for late 1827. There appears to be a cluster of shared theme and vocabulary with Spalding, at the point in the Smith story where he recovers the "plates" from a stone box, near the top of a hill, a little south of one of the Great Lakes. There are probably other such constellations of common phraseology in the two texts, but the "plates" discovery account merits special notice.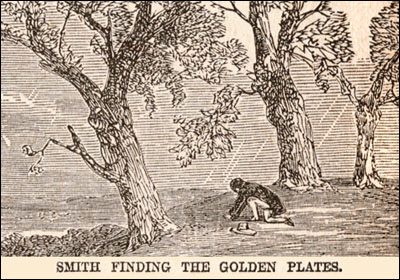 Of course, the mere detection and reporting of unusual phraseology similarities between the Smith History and the extant writings of Solomon Spalding does not answer the question of how these overlaps in thought and language came to exist in two supposedly unrelated texts. Some may say that, despite the external claims for a Spalding authorship of the Book of Mormon, these lingistic parallels are nothing more than an anomalous set of coincidental oddities. Others may wonder aloud whether Sidney Rigdon and his associates once had a whole library of Spalding documents in their possession. The answer probably lies somewhere between these two extremes of possibilities. It is nevertheless a reasonable conclusion that Spalding's language somehow influenced the texts of a whole genre of early Mormon writings -- from the pages of "sacred" latter day scripture and revelation, all the way down to Joseph Smith, Jr.'s mundane explanations of his own early activities. Since the days of Fawn Brodie it has been popular for students of Mormonism to guess that Smith's personal and family experiences are reflected at various points in the Book of Mormon story. The day may now be at hand, when it will be more correct to assert that Smith family members patterned the recollections of some of their own reported experiences after incidents contained in the Book of Mormon and other, lesser known sources, such as the "lost" manuscript prose of Mr. Solomon Spalding.

The tabulation of textual similarities presented below follows the order and numbering of Franklin's 1996 list, but does not duplicate it precisely. The list was derived from a short excerpt from the initial portion of Smith's History (1842 Times & Seasons pages 749-772), compared with the entire Oberlin Spalding Manuscript. Several of the tabulated parallels appear to be worthy of closer study and possible expansion; others are perhaps of no real significance, other than to document shared vocabulary.









See Broadhurst's "The Coming Forth of the Book of Mormon" for presentation of thematic overlap in the Joseph Smith plates discovery story and the fictional ancient record discovery related at the beginning of Spalding's Oberlin manuscript.